Wednesday, November 01, 2006
I have recently received a flood of traffic from many different sources. Because the blog format shows the most recent posts first, some new readers are finding it a little confusing to start reading where the various links are pointing them to.
Rather than jumping into the middle of this mystery, it is easier to follow it if you start at the beginning. To make that more convenient for you, I have created THIS LINK to the beginning. Scroll down to the bottom of that page to start with the first post. You can easily catch up by going to the "Archive" section located on the right side of this site.
Thank you for your continued interest.
posted by John at 2:25 PM
---
Friday, November 03, 2006
From time to time I will introduce you to several key players who contributed in some way to MKULTRA, and the various other programs the CIA began running in the early 1950's. These people may, or may not, have ties to the Indian Lake Project – I'll let you be the judge.
Sidney Gottlieb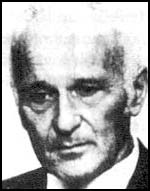 Sidney Gottlieb headed the chemical division of the Technical Services Staff within the CIA. He became known as the "Black Sorcerer" and supervised the preparation of lethal poisons and experiments in mind control. In 1953 he headed the secret project known as MKULTRA.
Read more about him HERE.
posted by John at 6:32 AM
---
Saturday, November 04, 2006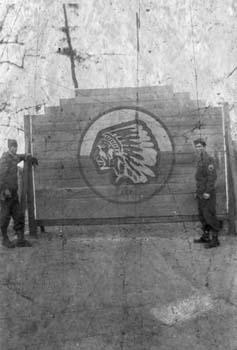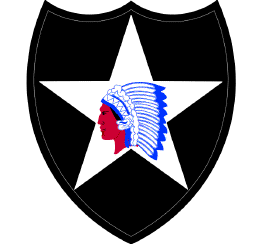 Every now and then I get an email that I'd like to respond to on this site. Today I got one of those emails.
John,
The picture that is supposed to show a military base at Indian Lake New York has to be wrong. It's unlikely that this picture was taken in New York or even in North America, because the symbol on the sign is of the 2nd Infantry Division, known as the 'Indian Head' division. There's absolutely no reason why this would be a sign in the town of Indian Lake.

XXXXX XXXXXXXXXX
Thank you for the email.
I don't for a minute think that this sign was "in the town" of Indian Lake, but more to your point – the 2nd Infantry Division insignia is NOT what is shown painted on that sign.
Let's compare the two. Yes, there is an indian head used in both, however those two indian heads look nothing alike in style. The 2nd Infantry Division insignia has a star and a shield background. The insignia on the sign has no star or shield, and really looks nothing like the 2nd Infantry Division's insignia at all.
I agree with you that there is no reason why the 2nd Infantry Division would be in New York, however the sign clearly does not show the 2nd Infantry Division insignia.
On a side note… if you look really close under the indian head on the sign you can make out the initials I.L.P. (Indian Lake Project).
posted by John at 10:12 PM
---
Tuesday, November 14, 2006
Sorry I have not posted in a while, but there is not much new to report. This past weekend I went into the woods and found nothing new. The emails from 'Mary' have stopped, and it has actually been very quiet which is good. As always I'll keep you posted on any new developments or information I come across.
posted by John at 10:38 AM
---