Tulip Staircase Ghost
Rev. Ralph Hardy, a clergyman from British Columbia, snapped this image in 1966. He was photographing the spiral "Tulip Staircase" in the Queen's House section of the National Maritime Museum in Greenwich, England. The photograph shows a shrouded figure climbing the stairs, grasping the railing with both hands. Experts have failed to find any evidence of tampering or fraud.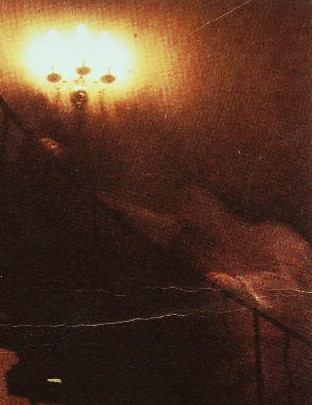 Andrew Ransom's Ghost, St. Augustine
Astonishing ghost picture captured by a tourist at Castillo de San Marcos, St. Augustine, Florida. The team from Ghost Adventures were chatting to Cal Colgan who produced this photograph, apparently showing the ghost of Andrew Ransom, a rather ruthless English pirate, taken by a visitor. The ethereal figure on the left, who was not seen by anyone else at the time, is wearing the ruffled collar so much of the period that Ransom was in St. Augustine, in the late 1600's. His ghost has been seen numerous times around the Castillo area, by both locals and tourists. Could this really be him?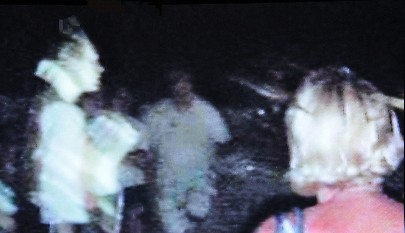 Property of Cal Colgan
Castello de la Rotta Knight
These three rare supernatural images were taken at the Castello de la Rotta near Turin in Italy. The first picture is thought to be that of Arturo, a hooded knight who gallops around the castle holding his head in one hand. This was captured on film after a skeleton person and horse were discovered. The other two were captured on film walking towards the chapel and materialising out of a wall. This amazing castle is connected with the Knight's Templar and is said to have been built at the meeting point of two powerful leylines in order to facilitate paranormal and mystical activity.



London Underground Ghost
Very compelling photograph taken by Karen Collett on the Bakerloo Line, London, in the early 1980's. Taking a picture of her family in the train, this eerie image appears reflected in the glass of a man in an electric chair with blue sparks shooting from his hands. Taken with a 'point and shoot' 110 camera, manipulation in highly unlikely. A wax figure of Bruno Hauptmann, who was accused of the kidnap and murder of the Lindbergh baby, is in Madame Tussaud's Wax Museum and shows him in the electric chair. The image is identical to the one in Karen's photo except there are no blue sparks in the Museum exhibit. Despite sceptic's claims that it must have been a poster in the Underground tunnel, Madame Tussaud's can find no record of any such poster ever being manufactured.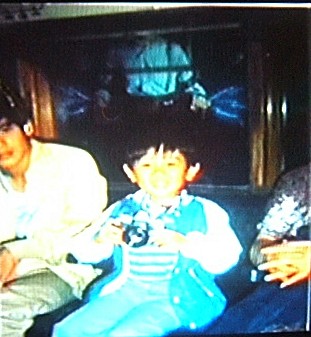 Caergwrle Bridge Ghost
Members of the Cheshire Paranormal Society took this picture on Packhorse Bridge, Caergwrle, Wales. Although this was just a random shot, orbs had been captured by the group already and several members felt uneasy at the time. It's believed a number of ghosts haunt this bridge possibly in connection with a former burial ground nearby, for which the bridge was the entrance. Visit the Cheshire group's website here: www.cheshireparanormal.co.uk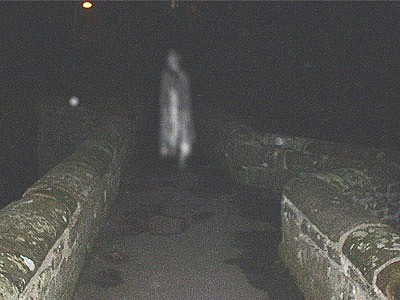 Utah Pioneer Memorial Museum Ghost
This ghostly image was seen on a surveillance camera at Utah's Pioneer Memorial Museum in October 2007. Security officers were first alerted that something unusual was going on when they noticed movement on the monitors. The Highway Patrol was called in to investigate and as soon as they arrived the face vanished after staying on the monitor for about five minutes. The building was checked, the camera inspected and there is no reason for this image appearing. They continued to see it for a few more nights but after moving items around in the gift shop, it disappeared. Is it just a reflection or the real face of a ghost? Perhaps we'll never know.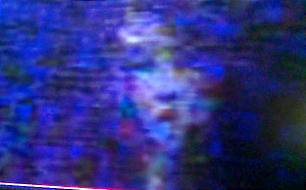 Hospital Ghost
I had to look at this truly supernatural photo a few times. Taken from the excellent www.coasttocoastam.com, this is what they say:
"At an ICU in a hospital in Colorado, a nurse was testing her flash in the room with the lights off. Unknown date other then recently. Calendar is on the wall but not sure if it has the correct date on it."
Note that the ghostly gentleman is actually looking directly into the camera.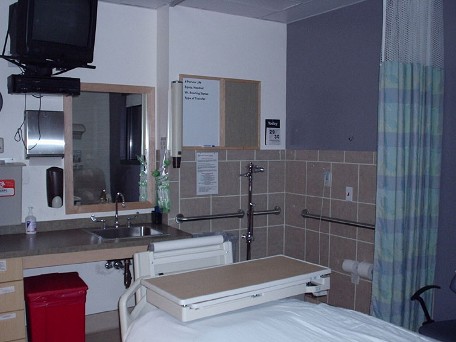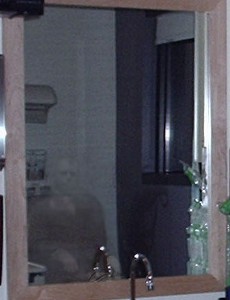 Camp Ghost
This photo was taken in the Parish Church Hall in Lyme Regis, England, in 2005. Despite being connected to the church and being used by American troops during World War II, up to now there have been no reports of any paranormal activity. When this picture was taken, an indoor camping site had been set up. Earlier in the day a small girl had been seen chatting away to herself and when asked who she was talking to she replied, "Sam". There was no one of that name in the group or in the hall. Is this a picture of "Sam"?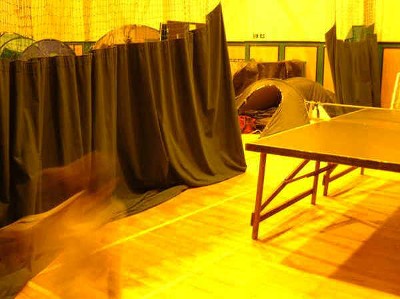 Jenner Museum Ghost
This picture taken at the Jenner Museum, Berkeley, England. Here's what the Culture 24 website says about it:
"There have always been stories of ghosts at the Edward Jenner Museum. We usually take them with a pinch of salt," says Sarah Parker,the museum's director. A BBC photographer dropped in to get some snaps of the museum's latest exhibition and when he got back to the office discovered some unexpected and unexplainable shapes in his pictures. "I don't believe in ghosts myself," says Chris Sandys, BBC photographer, "but this is strange! As soon as I'd taken the panoramic photo, I reviewed the image on the camera, and straight away noticed this strange formation of light, shaped like a figure, through the doorway in the next room".
The figure looks quite large and could be a soldier as graffiti has been found in the attic with names and ranks of soldiers who had stayed in the house, possibly during the 19th century.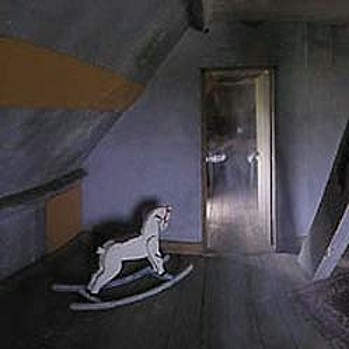 © Chris Sandys BBC Gloucester
Tantallon Castle Ghost
Photograph taken at Tantallon Castle, Scotland in 2008 by tourist Christopher Aitchison. According to the photographer, it was taken around 3 pm and there were no re-enactments taking place or any mannequins placed in the castle windows at the time. Trick of the light, or an actual ghost in period clothes? This photograph is one of many that Richard Wiseman, who studies the paranormal, has been collecting for quite some time.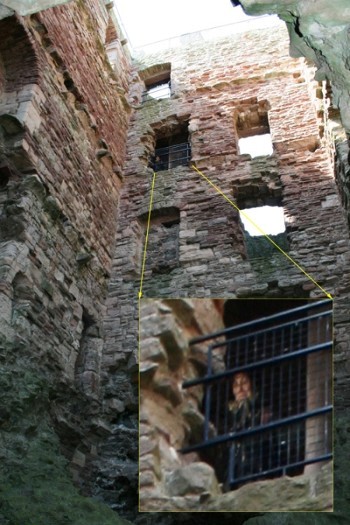 Church Ghost
This photo was taken at St. Peter's altar in Rome. The shoes of the ghost that is captured on film appear to be around 18th century.
[UPDATE]  Apparently this is not a ghost, but a hoax. A time lapse photograph technique was used to capture this image.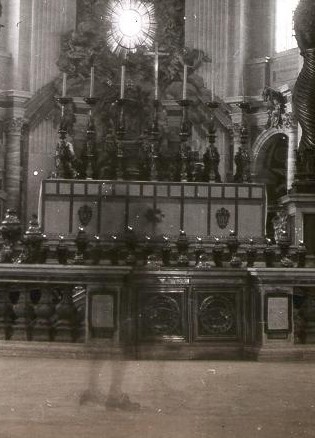 Ghost of Yuri
Shot taken high above the stage in the St. James's Theatre, Wellington, New Zealand by Carolyn Taylor of what is believed to be the ghost of Yuri, a Russian dancer. He fell to his death from high up over the stage – around this area – and questions remain as to whether it was an accident or murder. Yuri has been seen and felt many times and is obviously loathe to leave the stage.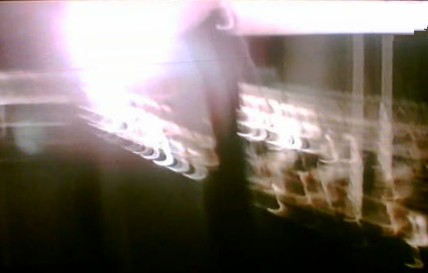 Prince Albert Ghost
This photograph was taken by Grant Wilson of Leeds, England who was snapping pictures of valuables in his living room for insurance purposes. The television was unplugged! The face, which is strangely like that of Prince Albert, is on the negative also, which rules out tampering at the photo lab and the image is very similar to daguerrotype photographs taken in the 19th century.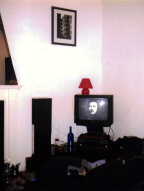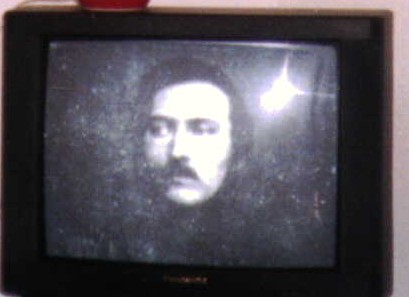 Riccarton House Ghost
This photo was taken by Carolyn Taylor of the Ghost Hunt group in New Zealand. While filming at Riccarton House in Christchurch, Carolyn snapped a few pictures of the exterior of the house, not seeing anything unusual. Only when the photos were examined was this menacing apparition spotted on the porch.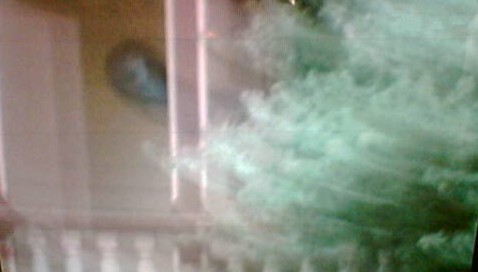 The Madonna of Bachelor's Grove
This photograph was taken during an investigation of Bachelor's Grove cemetery near Chicago by the Ghost Research Society. On August 10, 1991, several members of of the GRS were at the cemetery, a small, abandoned graveyard on the edge of the Rubio Woods Forest Preserve, near the suburb of Midlothian, Illinois and this photograph came out with an image of a ghostly, out-of-her-time, lady. There was no one else there.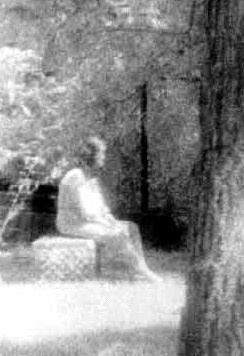 The Ghost in the Burning Building
In November 1995, Wem Town Hall (dating from the turn of the century) in Shropshire, England burned to the ground. Tony O'Rahilly, a local resident, was one of many onlookers as the building collapsed and took photos of the event with a telephoto lens from across the street. One of his photos shows what looks like a small, ethereal girl standing in a doorway. In 1677, historical records note that a fire destroyed many of the town's old timber houses. Legend goes that a young girl named Jane Churm accidentally set fire to a thatched roof with a candle. This is a clear image of what is probably a ghost.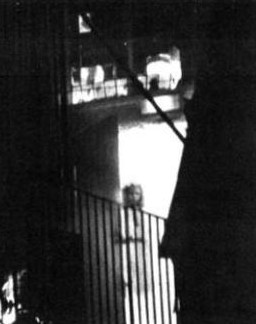 The Brown Lady
This image of the "The Brown Lady" ghost is one of the best known ghost photographs ever shot. The apparition is thought to be that of Lady Dorothy Townshend, wife of Charles Townshend, 2nd Viscount of Raynham, of Raynham Hall in Norfolk, England in the early 1700s. The photograph was taken in September, 1936 by Captain Provand and Indre Shira, two photographers who were taking pictures of Raynham Hall for Country Life magazine.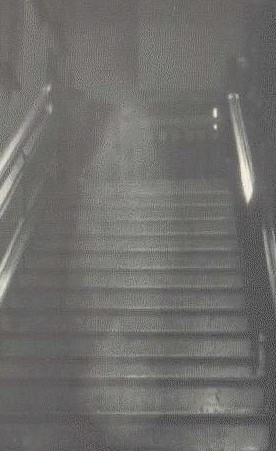 Park Bench Ghost
This trilogy of pictures is actually one that a visitor to Moonslipper sent in. Lot took this series of three photos while having fun with her friends in a park. She says no one else was there, the female form seated on the park bench in the first picture on the left does not appear in the other two photos and you can see through the figure.

The Back Seat Ghost
After visiting the grave of her mother one day in 1959, Mabel Chinnery took this photograph. She had also taken some photos of the gravesite. On her way to the car, Mabel took an impromptu photo of her husband, who was waiting on his own in the car. When the photos were developed, they were amazed to see the image of her late mother sitting in the back of the car. Experts have testified that this photo is absolutely genuine.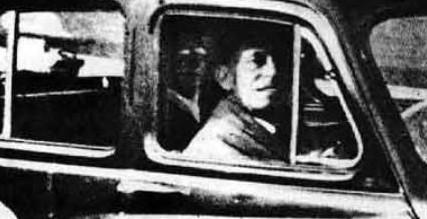 Ghost Buddy
Found this ghost photo on the web, with very little information. This happy gathering probably dates from World War II, over 60 years ago, long before Photoshop etc…! A group of drinking buddies, with a transparent soldier at the rear, in the middle. I feel this is authentic, given the age of the photograph and the way the ghostly man fits into the group perfectly, as if he doesn't want to miss the fun! Love it!
[Update] Samantha from Australia emailed to say this photo belongs to her friend and was taken by her grandfather in Egypt during WWII.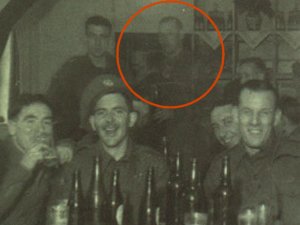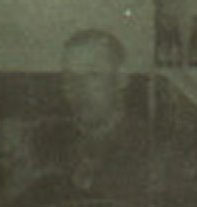 Hotel Ghost
A really nice, clear ghost picture found at www.ananova.com. From Ananova:
"The ghost of a tall woman in a long white dress reportedly watches the hallways and staircases of the Decebal hotel, in the Baile Herculane mountain spa. The 150-year-old hotel is believed to hide ancient Roman treasure under its foundations and the ghost is said by locals to keep treasure hunters away. Victoria Iovan, 33, from Baile Herculane, said: I photographed my boyfriend in the hotel. Back home I was shocked to see another woman's shadow in the picture. She looked like a priestess in long white clothes."
Very nice shot.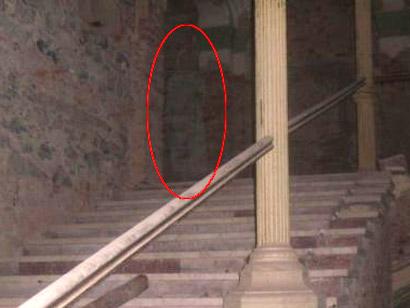 Little Ghost
This is a ghost picture was picked up at GazetteLive.co.uk From their site:
Matthew Summers, 17, got a shock when he snapped seven friends – and eight faces stared back. A haunting child's face appeared at knee-height in the photo taken before a night out in Billingham. "I zoomed in to my sister's mate's little sister who was crying and I saw a face," said the Norton teenager. "You can see all the facial expressions and everything. Usually when you see pictures like that it's a blur but this one is really weird."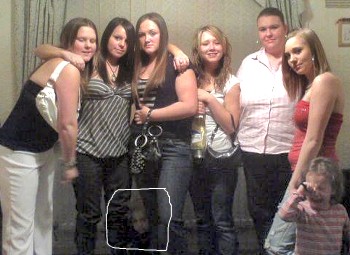 Hull House Ghost
Picked up this excellent ghost photograph courtesy of Coast to Coast AM. This is the background behind the photo:
"My husband & I were visiting Chicago in June '07 and we decide to do a ghost tour. The tour was fun & interesting, lasted about 3 hours. The Hull House Museum was the last stop, as soon as we pulled up I knew I needed a photo of the staircase. I forgot my camera at the hotel so I had to use my cell phone (which has no flash). I waited till everyone had moved on to explore other parts of the grounds & such. I got my phone out & said SAY CHEESE and when I got home & blew up the pic on my pc this is what I got. -Erin"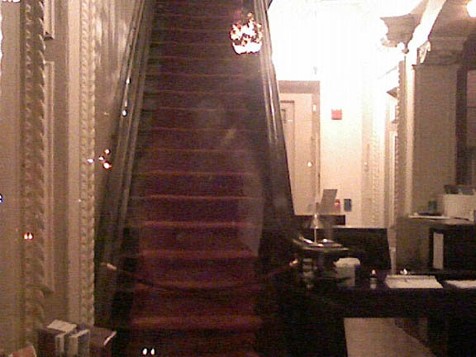 Basketball Ghosts
I have no information whatsoever on this photograph which  was sent by one a visitor. It's an interesting shot, is this group of ghosts watching a game, or is it a detailed hoax?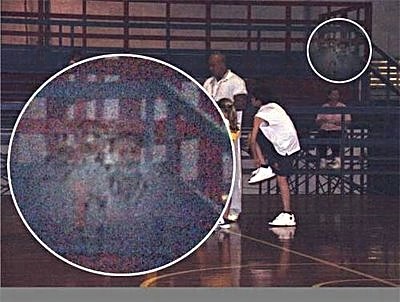 [OPTIK'S NOTE]
Although some of these are very compelling, alot can be attributed to bad photography. Note that some of the photos taken depicting a "ghost" have items blurred through the entire image. This would lower the credibility of the image containing paranormal activity by a large degree. I will also post these photos in the gallery section of the site.